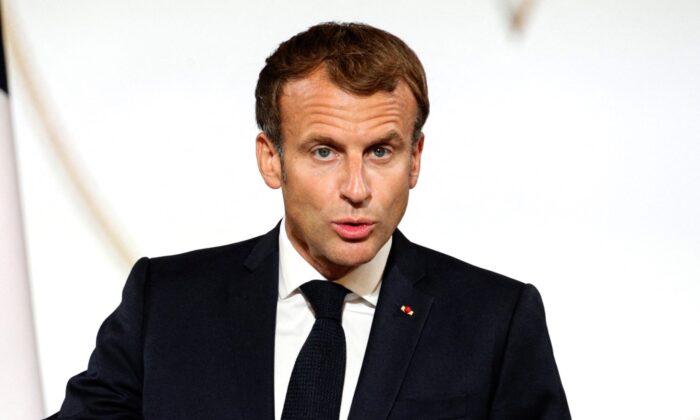 QR Code of President Macron's Personal Vaccine Passport Leaked Online
The QR code of French President Emanuel Macron's personal vaccine passport was leaked earlier this week and has circulated on social media before being deactivated, according to multiple reports.
Officials at the Élysée Palace in Paris, the residence of the President of the French Republic, confirmed with news agency BFM TV that the leaked information was indeed Macron's legitimate personal QR code from his health pass.
A picture of the pass showed his full name and date of birth. Officials said they suspect an "ethical flaw" is involved after health professionals likely circulated the information voluntarily or by negligence.
The French Network reported that the code has since been deactivated and can no longer be used, although the incident has sparked controversy regarding the safety of people's personal health information.
"This system works, but there has been an ethical flaw on the part of one or more health professionals. Someone made an impression of the QR code and circulated it voluntarily or by negligence," Élysée officials said.
Authorities said on Wednesday they have identified health workers suspected of leaking the details and personal information of the leader's health pass, AFP reported. It is likely the employees will face sanctions, according to the country's national health insurance agency CNAM.
A similar mishap was reported earlier this month after the QR code of French Prime Minister Jean Castex was leaked in a picture online. Castex's code is now displayed as fraudulent in "TousAntiCovid," a contact tracing app for monitoring the spread of the CCP (Chinese Communist Party) virus, which caused the COVID-19 pandemic in France.
The vaccine passport, which is dubbed a "health pass" by the government, is required by people to enter restaurants, clubs, and a number of other public places.
More countries and governments have recently enforced COVID-19 related measures, such as health pass legislation, particularly in Europe and the United States. Many Americans have since been targets of CCP virus-based scams.
Last month, the U.S. Department of Health and Human Services Office of Inspector General appealed to the public about COVID-19-related scams in the form of asking people to pay out-of-pocket to receive a shot; or ads circulating on websites, social media, emails, as well as phone calls for getting a vaccine; or door-to-door visits to perpetrate CCP virus-related scams, among
SOURCE : https://www.theepochtimes.com/qr-code-of-president-macrons-personal-vaccine-passport-leaked-online_4011033.html